Helsinki Shipyard develops and builds the most advanced products and solutions to match the customers' business needs.
Helsinki shipyard is a renowned builder of high-class passenger ships, in close co-operation with our partners in the European marine cluster. We have always been a forerunner in utilizing new solutions and unique features. We have delivered the most desired and lucrative ships to our customers.
Today we specialize in construction of small and middle size cruise ships. SH Minerva with her sister ships, series of three expedition cruise vessel built by us, are a combination of our strong know-how in building ice-breaking vessels and cruise ships. In design phase we pay special attention to environmentally sustainable solutions, that bring benefit as well to our customer when we reduce impact of the vessel to her operational territory. Environmentally sustainable solutions can be utilized in both, in technical and interior solutions.
Contact:

Harri Suistio, Sales Manager
+358 10 622 2160
harri.suistio@helsinkishipyard.fi
Passenger ships built in Helsinki
Cruise ships (Vega, Fantasy, Spirit, Europa)
NB 516 SH Minerva, Arctic Expedition Cruise Vessel, delivered by Helsinki Shipyard Oy for shipping company Swan Hellenic's use in December 2021, as one of the series of three vessels.

Special features: High ice class PC5, which enables cruises as well in polar regions. When designing of the vessel we paid special attention to the vessel's operation in sensitive polar regions. The vessel fulfills the latest environmental requirements, it is completely self-sufficient for up to 40 days or 8000 nautical miles. SH Minerva is equipped with exhaust gas cleaning, advanced treatment system for wastewater and storage facilities for waste. Preparations are made for implementing battery technology, which would make it possible to operate also silently in ecologically sensitive areas.
SH Vega, the sister ship of SH Minerva delivered from the yard in July of 2022. The third vessel in the series will be delivered in 2023.
NB 479, Fantasy, Cruise ship, delivered in 1990 to Carnival Cruise Lines, Inc., forming a series of eight ships.

Special features – First AC – AC diesel electric cruise ship equipped with ABB cyclonconverters, and the last 2 equipped with podded propulsion, the first in the World to be installed on cruise ships.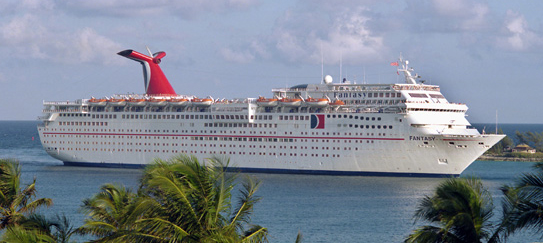 NB 499 Carnival Spirit, Cruise Ship, delivered in 2001 to Carnival Cruise Lines, Inc.

Special features – The largest cruise ship ever built in Helsinki and eventually a series of 6 ships.
NB 495 Europa, Cruise Ship, delivered in 1999 to Hapag-Lloyd AG

Special features – The first 5+ star cruise ship built in Helsinki.

Ferries (1358-1362, Tallink, Viking, Brittany Ferries)
NB 1362 Armorique, Passenger Ferry, delivered in 2009 to Brittany Ferries.

Special features – Armorique is particularly fuel efficient as well as environmentally-friendly by keeping CO2 emissions to a minimum.
NB 1361 Baltic Princess, Cruise Ferry, delivered in 2008 to Tallink

Special features – The forward section of the ship was constructed at Aker Yards' Chantiers de l'Atlantique shipyard in France and was towed to Helsinki where the hull was completed.

NB 1358 Viking XPRS, Passenger Ferry, delivered in 2008 to Viking Line.

Special features – Viking Line's first new building for the Helsinki–Tallinn route and also Viking Line's first fast cruise ferry.